Not sure which sewing machine is the right one for your business? Learn the best Janome sewing machine for a quality job done with efficiency. There are plenty of options out there that will leave you feeling restless. Let us help you choose the right one for your needs so you can feel at ease.
How to Choose the Best Sewing Machine for Your Small Business
Is your business still young and on a tight budget? Are you not quite sure where to start regarding what you need? You need the right machine to handle the task for businesses offering sewing services, embroidery, clothing alterations, and custom-made clothing.
Janome is a Japanese sewing machine brand that has been offering easy-to-use machines since 1950, making them one of the most reputable sewing providers in the world. Their popularity is thanks to their easy-to-use features, reliable performance, industrial use as well as the availability of affordable models for home use.
Why Should I Consider a Janome Sewing Machine?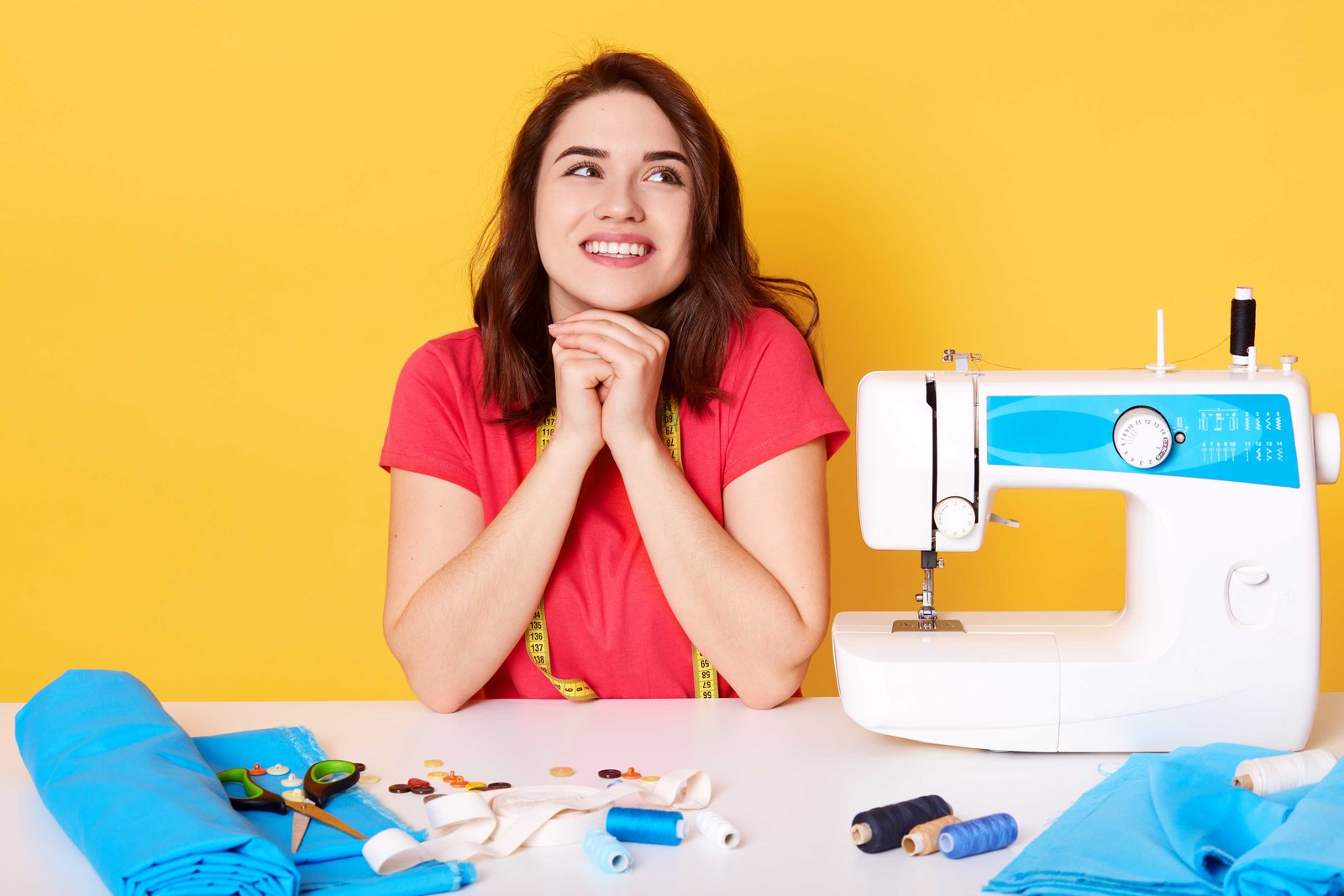 A Janome sewing machine is your best friend if you're running a small business. Here are a few reasons to consider a Janome sewing machine instead of a different brand:
They offer affordable units that maintain high performance.
Your business isn't made of money. At the same time, more expensive doesn't always mean better. Janome has proven itself to provide amazing quality products for affordable prices time and time again. Most Janome sewing machines are user-friendly. Cheaper models from the brand offer a great user experience with a professional touch in every stitch, even if you're new to sewing.
You can choose from many different models, from modern to traditional.
The looks of a product play a big part in purchasing for many people. If you're one of them, then you'll be happy to find a large variety of models by Janome. But, if you have a limited budget or are interested in a bang for your buck, then looks aren't your concern. Regardless of what model you choose from Janome, you can count on their quality to be consistent. The cheaper Janome sewing machines may not have all the perks that their more expensive counterparts have. Nonetheless, they are worth your hard-earned money.

There are a lot of adjustable options for more seasoned sewers.
Sewers with more experience understand the importance of having adjustable options readily available for any task they run into. Most modern sewing machines include the ability to adjust the speed & type of stitch to satisfy advanced user needs and meet market standards. Janome is a veteran in the sewing machine industry, so it only makes sense they offer high-end machines as well. Do you need 1,400 stitches per minute? They got it for you! Need the option to choose what specific stitch you want? Janome can do it. Be prepared to pay a bit more for these features, though.
Janome sewing machines are durable and long-lasting.
It doesn't matter if you're buying their most expensive model or one of the cheaper sewing machines, Janome is well-known for its durable machines. A warranty with your purchase allows you peace of mind should anything happen to your machine.
Factors to Consider
Just like with making any other expensive purchase, there are several factors you need to consider. Here are the things you should consider when choosing the best Janome sewing machine for your needs.
Stitches per Minute
The number of stitches a machine can use determines how many different types of stitches it can perform. With more stitches per minute, you can utilize more types of stitching and even experiment with different designs.
Power
More power means you can get more stitching done in less time. Less power is undesirable as it will slow down your working time and end up being a frustration on your end.
Cost
If you have a strict budget to adhere to, then the cost will be the most important factor for you. Make sure you allow yourself a budget window to compare a range of models within the range. The goal here is to get the best Janome sewing machine for your needs for the best value.
Top 10 Best Janome Sewing Machine for Small Business
There are a lot of Janome sewing machines for sale, but which one meets your standards and fits in your budget? The right sewing machine for your small business can make a big difference in the quality and efficiency of your work. Check out the best Janome sewing machine for sale and find out which one can meet all your needs so you can be up to par with the competition.
The Janome S5 Computerized Sewing Machine offers amazing features to bring your sewing skills to a new level. The machine is simple enough for less-skilled sewers to use comfortably with still offering all of the essentials for those with more experience.
The Skyline S5 has a modern interface that achieves extensive possibilities with the press of a few buttons. A stitch selection guide will provide you with the proper numerical keypad combination for your desired stitch. A large-sized bed allows enough room for larger projects, such as quilting & home decor. At the same time, it's size is quite compact, making space a concern you can cross off your list.
Minute features include an automatic thread cutter, memorized needle up & down, auto-tension system are just a few among many others. The construction of the machine allows for quiet, non-vibrational operation for minimal disruption. Power levels are efficient so you can get sewing tasks done quickly without wasting a second.
Top-of-the-line feats make this machine arguably the best Janome sewing machine for sale in the mid-range pricing department. Sewers of all skill levels will have a splendid time using this machine as it provides high-performance, ease of use, great stitch quality, and undemanding maintenance. Such features are available for an extraordinary value as well.
Key Features
6 ultra-bright LED lights

Spacious sewing bed

170 built-in stitches

91 needle positions

9mm maximum stitch width

Auto-tension system

Backlit LCD screen & computerized interface

Automatic thread cutter

Reverse button

Stitch lock button

Memorized needle up & down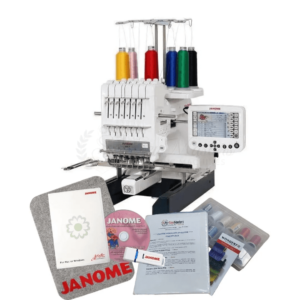 Our following review covers the Janome MB7, a top-notch sewing machine that is advanced enough to accommodate the embroidery expert's studio. One of the outstanding features of this sewing machine is the remote computer screen which can be attached to the machine itself.
Fifty built-in designs and ten fonts will help in your creation process. The computer provides information such as the time required to complete the design & number of stitches you need. Use the USB connection to import your custom designs for endless design possibilities. When you're not using it with your machine, you can connect it to your computer to view data on your computer screen.
While inserting the bobbin on other machines is quite simple, this Janome model requires more attention to detail to get it right. The open bobbin case is responsible for common confusion among users, though it can quickly be addressed by referencing the included manual. Once you have it set up, seven different colored threads will be readily accessible with ease.
To be honest, the Janome MB7 is a model more suited for well-seasoned sewers. However, its advanced features offer a level of convenience, customization & precision that users appreciate. The quick operation, thorough attributes, and versatility make the MB7 a candidate for the best Janome sewing machine.
Key Features
5.7" remote computer screen

Works with embroidery formats (.jef+, .jef, & .dst)

50

 

built-in embroidery designs & 10 monogramming fonts

Embroidery tracing

A USB port for design import & computer connection

Maximum 800 stitches per minute

6 LED lamps

Large bobbin

Versatile stitching guidance

Auto-return when threads break

Adjustable hoop positions

Stitch counter

Programmable jump thread trimming
If you don't mind using a sewing machine featuring Hello Kitty, then the Janome Hello Kitty Sewing Machine will be a cute addition to your small business. While it may be marketed towards younger sewers, the Janome 18750 goes above and beyond to ensure it provides extensive features for avid sewers to make the adjustments they want.
The 18750 has a computerized interface with an easy to read stitch guide right on the front. A backlit LCD screen allows for quick navigation so applying your desired settings can be done in a breeze. Left, right, up and down directional buttons make the process of selecting a stitch extremely simply.
The machine is capable of producing 50 different types of stitches which also includes 3 types of buttonholes. Features such as the memorized needle up/down, speed slider, easy reverse and stitch lock button offer an uncomplicated user experience. Even though the Janome Hello Kitty Sewing Machine was designed for use by children, it produces the same quality stitch as a machine intended for adults.
You may be fooled that this sewing machine can't possibly compare to other, more expensive models provided by Janome. It is one of the most affordable on our list and has features extensive enough to handle the demands of most small sewing businesses. If Hello Kitty & extremely easy usability aren't a problem for you, then the Hello Kitty 18750 may be the best Janome sewing machine to consider.
Key Features
50 stitching options

3 buttonhole designs

One-hand threader

Start & stop button

Easy reverse

A backlit LCD screen with easy to use buttons

5mm & 7mm maximum stitch length

Manual tension adjustment

Needle up/down button

Free arm

Speed slider

Stitch lock

Slide-on presser feet

High-pressure foot lift
4. Janome Memory Craft Horizon 8900QCP
Another easy to use the sewing machine on our top 10 list is the Janome Memory Craft Horizon 8900QCP. All the accessories you need to get to sewing are included with your machine. You'll find that the 8900QCP is feature-rich as well as simple to operate. Whether you're a beginner, intermediate, or expert sewer, there is enough substance included for you to unleash your creativity.
The computerized design provides a lot of conveniences to easily operate the system. Its interface allows you to fiddle with the stitch editing & recall, length & width adjustments, the pattern selection among several other typical settings you will encounter. The 8900QCP is jam-packed with 270 built-in stitches as well as 11 buttonhole stitches.
If you work with multiple layers regularly, then you will find the use of the detachable AcuFeed Flex system. A system like this will assist in producing accurate, uniform stitching every time. The operating system runs quietly so you'll never have to worry about being disruptive.
The Horizon Memory Craft 8900QCP is certainly a competitor for the best Janome sewing machine for sale. It accommodates sewers of all skills, has tons of stitching options, and saves a lot of time with up to 1000 stitches per minute. That being said, you will notice it is on the higher price end of our list.
Key Features
270 built-in stitches

11 buttonhole stitches

Reverse button

Stitch lock button

Included needle threaded

Speed slider

Start & stop button

Auto-thread cutter

Automatic tension control

Auto declutch bobbin winder

1000 stitches per minute at top speed
For those looking for a sewing machine suitable for quilting & patchwork, the Janome Memory Craft 6600P is your baby. An AcuFeed layered fabric feeding system allows the user to quilt effectively & accurately without an issue. That being said, if you require a free arm for your work then this model won't meet your requirements.
The threading, winding, & loading processes are quite simple and won't waste any of your precious time. A well-lit LCD screen provides useful information and makes adjusting your settings an easy experience. No matter what type of fabric you are working with, the Memory Craft 6600P produces consistent results.
A reference guide to choose your desired stitching makes it easy to lock in your option with the computerized interface. The operation is smooth, quiet, quick and reliable. One of the unique options this machine offers is the ability to create French knots, a feature typically available only on premium sewing machines.
The Janome Memory Craft 6600P is a big hunk of great machinery with desirable features available for a reasonable price. With slight inconveniences such as a lack of free arm and the need to manually adjust tension, they aren't enough to knock this sewing machine off from taking a spot on our best Janome sewing machine list.
Key Features
AcuFeed layered fabric feeding system

99 stitching options

7 one-step buttonholes

2 alphanumeric fonts

Twin needle guard

Knee lift

Built-in needle threader

LED sewing lights

Speed control adjustments

Numerical touchpad

Mode & help buttons
The Memory Craft 400E is another computerized sewing machine by Janome. A large embroidery area of 7.9"x7.9" rivals top-notch embroidery machines that are priced much more extravagantly. 860 stitches per minute allow you to sew quickly & effectively while an automatic thread cutter removes the need to grab your scissors.
The computer system has 160 built-in embroidery designs as well as 6 monogramming fonts. Have some embroidery designs you want to transfer? A provided USB can connect your machine to a computer so you can import them. While choosing your design, you can use the full-color screen's control panel to edit, enlarge, flip, rotate, change colors, zoom in, and more until you have a design that satisfies you.
You can manage the speed, direct jump to desired stitch points as well as return to post thread breaks. A collaboration of timesaving feats makes sewing a breeze no matter what kind of experience you possess. The bobbin thread sensor also informs you whenever you require a refill.
When it comes down to it, the MC400E is a true contender for the best Janome sewing machine for your needs. It offers plenty of built-in design options, an array of customization features, and everything you need to get started on your sewing endeavors.
Key Features
160 built-in designs

6 monogramming fonts & 2-3 letter monogramming

Large maximum embroidery size (7.9"x7.9")

Data transfer capabilities with a USB cable

Full color, LCD touch screen interface

On-screen adjustment functions (rotate, enlarge, reduce, drag, change color, etc.)

Adjustable speed

Flexible stitch traveling

Auto return post thread break

Adjustable hoop positioning

Built-in needle threader

Automatic thread cutter

Bobbin thread sensor
7. Janome Magnolia
The first thing you'll notice about the Janome Magnolia 7330 is the beautiful yellow floral trio embellished around the word "Magnolia," located at the base. Aside from being pleasant to the eye, this sewing machine has the essentials needed to produce high-quality stitching you're after – and for an incredible value at that.
Janome's Magnolia line was meant to provide beginners with easy to use machines so they can better learn the sewing basics. The 7330 is the most advanced machine in the Magnolia line, making it viable for intermediate & advanced sewers to use for small business needs. 30 decorative stitches are included as well as 6 one-step buttonholes.
A backlit LED screen displays the number of stitches so you can easily keep track of your progress. The front panel displays the stitch reference so you can navigate the correlating number and presser foot for your desired stitch design. Simply use the menu button to adjust the stitch type, length, and width and you'll be ready to go in no time.
For the price, the Magnolia 7330 is a considerable best Janome sewing machine for tight budgets. Its construction is durable, longlasting, and easy to operate. There are plenty of beneficial features that tailor to both the beginner & expert sewer's basic needs.
Key Features
30 built-in stitch designs

6 one-step buttonholes

Memorized up & down needle buttons

Speed control slider

Reverse button

Auto-lock

Stitch number indicator

Automatic sensor buttonhole

Convertible free arm capabilities

High presser foot lift

Backlit LED screen & navigation keys

4 different foot accessories
The Janome Horizon Memory Craft 14000 is a big step from many others on our top 10 best Janome sewing machine list. Take your small sewing business to the next level with the stellar features that open endless doors to express your creativity & skill! One thousand stitches per minute mean you'll do an excellent job in no time.
Possibilities are endless with 400 built-in stitches, 350 embroidery designs, 13 one-step buttonholes, a free arm, and lightning-fast sewing speeds. 11 monogramming fonts and 2 & 3 letters monogramming expand the horizons of your potential. An extra-large, 9.1"x11.8" embroidery size pairs perfectly with the quick operation to easily handle large projects.
The large, full-color LCD touchscreen is super easy to use and allows you full control over the creation and editing of your designs. For even more control, A Stitch Composer allows you to create and edit designs on your computer. AcuFeed Flex technology is implemented for insane precision control, so you can focus on every detail.      
If a tight budget is not a concern for you, then the Horizon Memory Craft 1400 might be the best Janome sewing machine to suit your needs. From quilting to highly-detailed embroidery, all your projects can be taken care of with this tough & reliable machine. Essentially, there are unlimited possibilities for you to sew your heart out and take the quality you deliver to all new heights.
Key Features
400 built-in stitches

350 embroidery designs

13 one-step buttonholes

11 monogramming fonts

2 & 3 letter monogramming

7-piece feed dog

AcuFeed Flex Layered Fabric Feeding System

LCD full-color touchscreen

4MB memory capacity

Twin needle guard

Programmable jump thread trimming

Retractable high light + AcuView Magnifier

Sewing speed up to 1,000 stitches per minute

Stitch Composer design program

Easy reverse

Locking button

Adjustable speed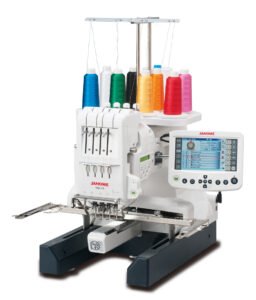 The Janome MB-4S may be the best Janome sewing machine because it's the first 4-needle embroidery machine for home use. Its complexity gives the impression that this machine is meant for industrial use. However, Janome has made it possible to produce some of the highest quality sewing jobs done in the comfort of your own home with the MB-4s.
Four needles are the standout feature of this machine. Eight thread spools allow you to keep additional colors nearby while working on multi-colored designs. Despite appearing to be a complex machine to set up, the MB-4s are surprisingly simple to thread and wind. On the other hand, operating this machine is not a walk from the park. You should be well educated on sewing before considering equipment this advanced.
The LCD screen on the right of the machine provides all the necessary function buttons, though it does not display your design. You have the option to mount an RCS unit on that same side, which can effectively display your current design. The unit offers all the same functions as the LCD screen, options to enlarge, change colors, rotate, and additional functions that involve editing your design.
Janome made sure to jam-pack this monster of a machine with everything you need to create the most delicate embroidery. If your business is heavily centered on curating custom embroidery designs, then the Janome MB-4s will add extra professionalism to every stitch. A different machine on our list will better suit businesses, not solely on embroidery.
Key Features
Four-needle set-up

50 built-in designs

Ten fonts available

2 & 3 letter monogramming

4 LED lamps

Built-in memory

Speeds up to 800 stitches per minute

Backlit LCD screen

Optional RCS attachment

Design resize capabilities

Vertical and horizontal flipping

Area tracing

Programmable jump thread trimming

Design transfer via USB

Maximum embroidery size of 9.4"x7.9."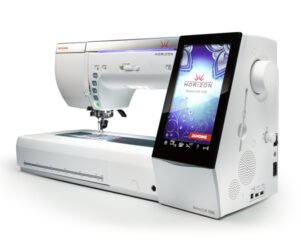 When your budget has no limitations, your business needs the Janome Memory Craft 15000. This is, hands down, the best Janome sewing machine regarding how modern it is, its elaborate features, and the quality stitch it outputs. Be on the lookout for this Janome sewing machine on sale because it costs quite a bit more than a pretty penny to pick up.
The high price tag isn't for nothing. You get extensive coverage of sewing needs when you invest in the Memory Craft 15000. Included are 510 built-in stitches, 480 embroidery designs, 13 one-step buttonholes, a WiFi connection, compatibility with the official Janome iPad apps, and much more. The Stitch Composer program means you have total control of your design with the ability to edit on your computer.
Enjoy the convenience of real-time PC connection via Horizon Link Suite. Transfer designs wirelessly, via USB, or through the Horizon Link Suite. A large, seamless touch-screen is integrated into the machine and offers flawless control of your tasks and progress. Customization options go as far as optimizing the stitching according to your brand and thread type.
If you're all about getting all the fantastic features and conveniences and are simply interested in getting the best product – the Janome Memory Craft 15000 is at your service. It has plenty of accessories and qualities to provide the high-quality product your business strives to achieve. Let's be honest, this is the future of sewing, so why not be early to the trend if you can afford to?
Key Features
7.7"x4.7" touch screen integration with full color

10 white LED lamps

4MB memory capacity

WiFi & official Janome iPad app compatibility

500 built-in stitches

480 embroidery designs

Stitch selection guide

13 one-step buttonholes

4 alphanumeric fonts

Memorized needle up/down

Speed control

Stitch Composer program

Start & stop button

Automatic thread cutter

Free arm

Retractable high light & AcuMonitor + AcuEdit

AcuFil quilting system

Real-time PC connection via Horizon Link Suite

Programmable jump thread trimming

Thread brand programming

A wide array of editing functions

Three different ways to lift the presser foot
Our Conclusion
Our goal is to help you make an informative decision on what sewing machine suits your business. We covered every essential aspect you should consider and laid out the ten best options in the market. Look out for a Janome sewing machine on sale because you simply can't beat the quality they provide. Even their most expensive models live up to their dollar amount.
Choosing the right Janome sewing machine for your small business shouldn't be difficult. Your sewing business needs to provide a great quality product, and they can do that with a sewing machine by Janome. When it comes down to it, it's best to choose the absolute best quality machine you can afford. A great machine will return your business's money in no time, so what are you waiting for?